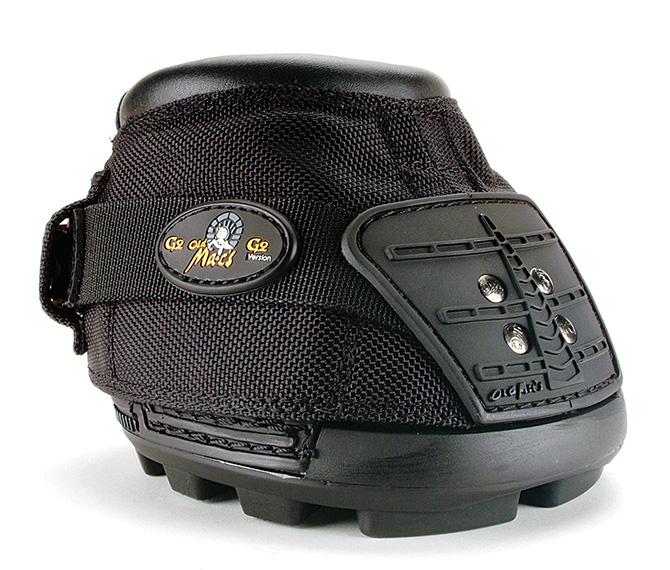 This week we wanted to feature the Old Mac's G2. This hoof boot made its debut in 2006. As one of our older styles, it doesn't always get as much attention as our newest products, but it's still a popular option for many of our customers.
Product Highlights
*The Old Mac's G2 is the only hoof boot manufactured by EasyCare that is sold in pairs. This makes it a great option if your horse's left and right hooves are the same size.
*Offered in sizes ranging from 0 to 12, the Old Mac's G2 are one of EasyCare's hoof boot styles that will fit on horses with larger hooves (up to just under 7 inches wide by just over 7 inches long).
*The Old Mac's G2 can be used for pleasure/casual riding, as well as for therapy uses.
*Every Old Mac's G2 boot has a unique hi-tech performance outsole and incorporates EasyCare's patented Thermo Plastic Urethane (TPU) compound, which minimizes concussion and shortens recovery time for horses with concussion-related injuries. This feature that makes this boot a popular choice for our mounted patrol customers who ride on asphalt and concrete the majority of the time.
*These boots are sold with a pair of EasyCare gaiters (that are optional to use) that can protect the pastern and help prevent debris from entering the top of the boot.
*The Old Mac's G2 boots have an internal pastern strap for additional security, as well as a buckle in the back of the boot instead of our hook-and-loop fasteners found on many of our other styles. Cathie opens the boot up and demonstrates these features in this video.