EasyCare has four Easyboot styles that are set apart from the others. The Easyboot Glue-On, Easyboot LC, Easyboot Flip Flop, and Easyboot Fury Glue-On are all glue-on Easyboots, which puts them somewhere between a boot and a shoe. They are not meant to be continuously applied and removed. They are more simple and streamlined than our other Easyboot styles, and they offer more coverage and gluing surface than our EasyShoes.
Let's look at the pros and cons of glue-on Easyboots as a whole, and then look at each of our four unique styles individually.
The horse can move naturally. The shell will fit snugly around the hoof, almost becoming part of the hoof.
You don't have to worry about debris getting into the boot as the glue should completely seal every space between the boot and the hoof.
They stay put. As long as you have the right fit for your horse, you don't have to worry about losing one of these boots. It should be a little challenging to get them off when you're ready for them to come off.
You can add products such as Sikaflex and Equipak underneath your horse's soles to provide cushion and relieve concussion.
You don't have to constantly be applying and removing boots. Once you've finished gluing, you're good to go for several days or several weeks.
Gluing can be an intimidating and messy process, especially at first. However, once you get past that initial hurdle, it gets easier and quicker and less expensive (as you'll re-use a lot of the supplies you'll need to get started).
It can be a lengthy process to prep the hoof for gluing. Preparation will make or break your gluing success, so it is important to do it right. This includes trimming the hoof, if necessary, cleaning it thoroughly, and roughing up the hoof wall.
It does require special equipment, and you have to be willing to learn how to use it to have the best possible gluing experience.
Gluing equipment and supplies can be expensive and overwhelming. Here's a great post detailing both essential and optional (but helpful) supplies.
Glue-on shells can't always be re-used (depending on how many miles they have on them, how they were removed, and how they were cleaned up), so the boots may need to be re-purchased multiple times throughout the year.
Now if you're considering trying out one of our glue-on Easyboot styles, let's look at the some of the key features of each style. Depending on your horse's hoof size/shape and your purpose, such as a specific event or all-around hoof protection throughout a whole trim cycle, one of these styles may be the better fit.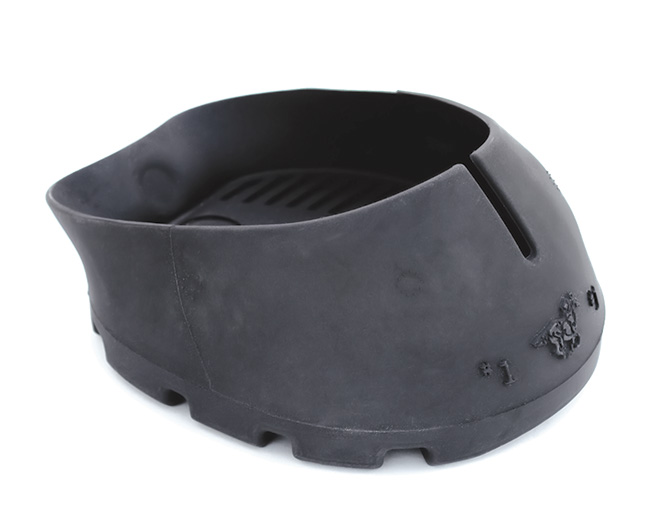 Streamlined, Seamless Design
Smooth, Snug, Chafe-Free Fit
Semi-Aggressive Tread
Durable Glue-On Security
Tried, Tested, & Approved by Top Competitors
Versatile and Convertible
Fit Kit Available to Check Sizing
A high-performance option for speed and distance events, the Easyboot Glue-On offers durable flexibility and a smooth, snug, hassle-free fit perfect for pack trips, long distance, and multi-day competitions. This boot is designed to be worn for up to 3-5 days.
A seamless design with no hardware, the flexible shell snugly fits over the hoof with a low-profile design that sits just below the coronary band for a chafe-free fit. The semi-aggressive tread has been tested and proven over various terrain types and conditions, making these glue-on boots an ideal choice for dry or wet weather.
Allows Independent Heel Movement
Flexible Rubber Insole Allows for Natural Growth and Expansion
Trimmable & Customizable
Intended to be Used Throughout an Entire Trim Cycle
Four Holes in Cuff Act as Dowel Pins for Stronger Bond
The LC is the "love child" of the Easyboot Glue-On and the EasyShoe Performance.
Designed to allow independent heel movement both horizontally and vertically with each foot fall, this boot offers the trusted protection of EasyCare with an innovative twist. Because it is common to see 4-8mm of heel expansion in each four to six week period between trimming, this flexible rubber insole allows for natural heel growth with time.
The length of this boot is longer than other EasyCare models, which allows you to trim it to fit your horse's unique hoof. Additionally, the cuff height offers two lines that guide trimming the upper if you wish to create a lower profile.

Can Be Left On For an Entire Trim Cycle
Allows Optimum Hoof Fluctuation
Trimmable & Customizable
Shares the Same Base as the Glue-On and Glove, Compatible with Therapy Click System
The Flip Flop was born when EasyCare identified some common glue-on product failures. Because the hoof wall expands and contracts, the glue bond is sometimes prompted to crack at the quarters and heel area.
The Flip Flop is designed to adhere only to the front of the hoof, which allows optimum expansion of the hoof wall and frog as the horse moves. Not only does this allow for natural movement and growth in the hoof, but it also gets rid of any glue cracking due to hoof fluctuation. The length can easily be cut to your horse's hoof, so this boot can be custom fit to any horse. The open design allows for high ventilation and less moisture retention around the hoof. The flip-flop has all the benefits of a boot, but can be left on as long as a normal shoe!
Extended Heel Length for Added Support
Heel Slot for Cushion System
Hardware Free
Aggressive Tread for Rough Terrain
The Easyboot Fury Glue-On offers exceptional functionality designed for high-performance speed and distance events.
The Fury Glue-On has an extended length compared to the standard Easyboot Glue-On shell, providing increased support for the heel area. The back of the boot has a unique slot that is filled with a pad system, allowing you to change the density under the hoof for varying levels of support.
This hardware-free boot also features a low-profile design that sits just below the coronary band for a chafe-free fit. The aggressive tread has been tested and proven over various terrain types and conditions, making these glue-on boots an ideal choice for dry or wet weather.
Have you tried any of these glue-on Easyboots? Let us know if they work for you, or if you prefer to stick with removable Easyboots.