Written by Erin Wolcott, Product Specialist 
If you haven't checked out our Fitting Assistant form on our website, it's a great way to get specific style and sizing recommendations from the Product Specialist team for the EasyCare product that will best meet your needs.
You simply enter all of the necessary details about your horse and your riding habits and click "Submit" at the bottom of the form. You can also attach up to four different photos of each of your horse's hooves. The more information you can provide, the more accurately we'll be able to select a product that you and your horse will be happy with.
After you submit the Fitting Assistant form, we'll email you back with style choices for you to look at, as well as which size you'll need in each style. Remember, if your horse wears one size in one boot or shoe style, that does not mean that same size will fit across the board.
We thought it could be useful to share an example of a Fitting Assistant form we received with our readers.
| | |
| --- | --- |
| What product category are you most interested in? * | Pleasure Riding Boots |
| How frequently is your horse trimmed? * | 4 week cycle |
| How frequently do you ride? | more than 3 times a week |
| How long are your rides? | an hour or less |
| If interested in a therapy boot, will the boot be used in a turnout larger than a round pen? | No |
| Do you have accurate measurements of your horse's feet handy? Accurate measurements are necessary for a specific boot size and style recommendation. | Yes |
| Front Left Hoof – Width, Length | Width 5 4/16 length: 5 3/16 |
| Front Right Hoof – Width, Length | Width 5 5/16 length 5 4/16 |
Left front:
Right front:
The first step I would take when looking at this information is to read the centimeters on this customer's tape measure to be able to move the decimal point one digit to the right and get these hoof measurements in millimeters*. Having hoof measurements in millimeters makes it much easier to locate the appropriate sizes on all of the different size charts for all of our different boot and shoe styles as some of our size charts only provide size ranges in millimeters.
*If a customer does not provide pictures with a ruler/tape measure, or if the ruler/tape measure do not have centimeters on one side, I will convert the measurements into millimeters using this Google's conversion calculator. This won't provide results that are as accurate as doing the measurements in centimeters or millimeters, but it will get us close.
In this case, this horse's hoof measurements are roughly 133 mm wide X 132 mm long on the left front hoof, and 135 mm wide X 133 mm long on the right front hoof.
We know that this customer is interested in pleasure riding boots for fairly short rides a few times a week. Her horse has a fairly short trimming cycle, which means we can select a more tight-fitting style/size because this horse is trimmed often enough it shouldn't have time to grow out of the boot.
Keep in mind that although we do separate our riding boots into two categories, pleasure and performance, that does not mean that boots in either one can only be used for pleasure or only used for performance. These categories are loose suggestions. We will consider boots in both categories for this horse.
This horse's hooves are almost perfectly round. This immediately rules out the Easyboot Epic as a good option because it's our longest, narrowest style. I would also likely rule out the Easyboot Sneaker, the Easyboot Trail, and the Old Mac's G2. These styles are pretty round, but are still longer than they are wide. If this customer chose one of these styles, there would be between 1/3 to more than 1/2 of an inch of extra length in these boot styles if we chose the size that would fit width-wise.
1/3 to 1/2 of an inch of extra room in the boot may not sound like much, but it is enough to allow the hoof to slide a little bit inside the boot. This may not be an issue at all, and this customer could try one of these styles if she wanted to, but they would not fit quite as well as a couple of other EasyCare products might.
Depending on this customer's preference, as well as what kind of conditions/terrain she rides in, I would likely recommend either the Easyboot Glove Soft or the Easyboot Back Country for this horse because they come in wide sizing options where the length and width size ranges are exactly the same. These wide styles are perfect for very round hooves.
I might suggest the Back Country over the Glove if this customer rode in rough terrain and needed more hoof coverage/protection. The base of both of these styles is the same, but they differ in how they fasten and how much coverage they offer. If this customer did not ride in rough terrain, it would come down to her personal preference when deciding between these two styles.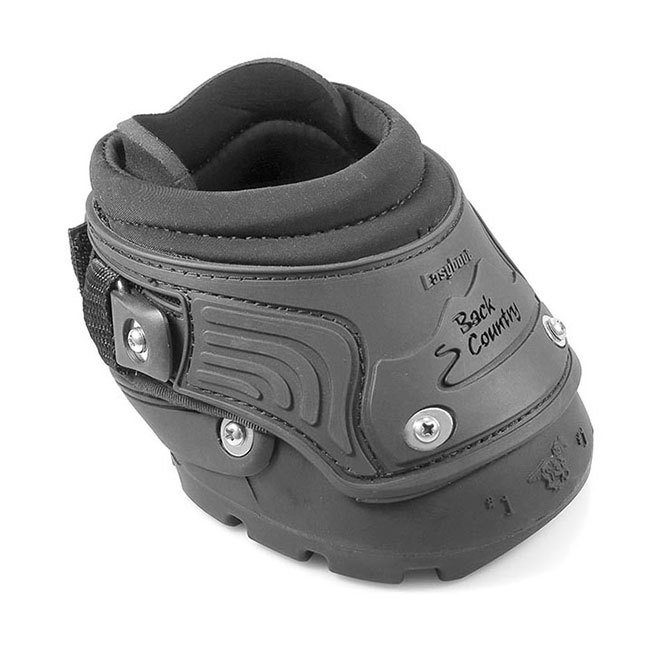 Even though these styles have the same base shell, we do recommend going up half a size in the Back Country because of the way this boot is secured around the hoof, there can be a little more wiggle room for hoof growth, and having a little extra space makes it much easier to get it on and off. I would recommend a size 2.5 Wide in the Back Country for the left front hoof and a size 3 Wide for the right front hoof. The 2.5 Wide will provide about 4 mm extra in width and 5 extra mm in length for the left hoof, and the 3 Wide will provide about 6 mm extra in width and 7 extra mm in length for the right hoof.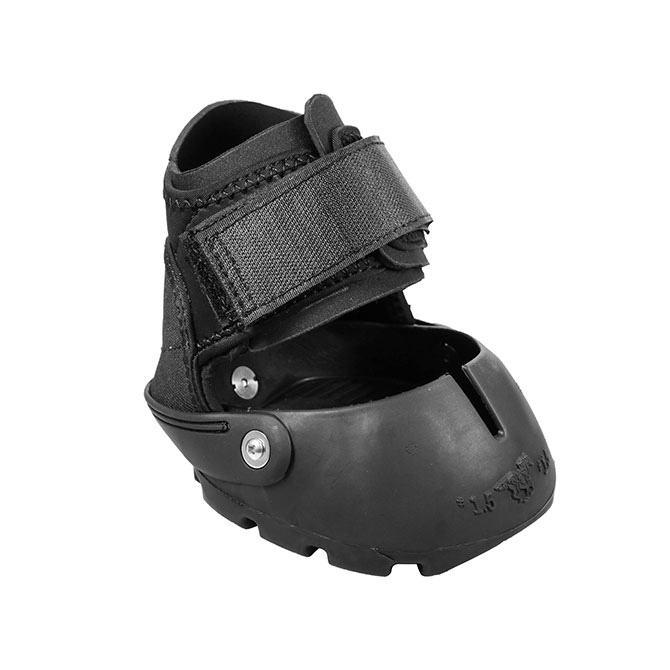 The Glove, on the other hand, is designed to fit as snugly as possible. For this reason, I would recommend a size 2.5 Wide for both the left and right front hooves. The 2 Wide might fit the left front hoof immediately after a trim, but because this horse's measurements are already at the top of the size range on the 2 Wide right after a fresh trim, I would recommend the 2.5 Wide to ensure that the boot will fit through the whole trim cycle. The 2.5 Wide will be slightly more snug on the slightly wider right front hoof, but it will be a good fit for the right hoof, as well.
Of course, these are only suggestions, and this customer would be welcome to try any of our boot styles in any size.
What would you recommend for this horse?
As always, feel free to hit us with all of your fitting questions!