The holidays are right around the corner, and you may have already started shopping for gifts. Do you need some more ideas for the equestrian(s) in your life?
Stocking Stuffers
If you're looking for a little something horse-related for a stocking stuffer, EasyCare has a few great options.
A new hoof pick. We've got a simple, magnetic hoof pick that comes in handy. Or a fancier-looking hoof pick with a wooden handle and a wire brush attached.
If you're shopping for someone who uses Easyboots regularly, a new pair of Comfort Pads would make a nice little gift. They need to be replaced regularly, so someone that uses them likely can't have too many pairs.
Quick Studs would make a nice stocking stuffer or practical gift. You get 16 studs per bag, and they can be applied to (and easily removed from) any Easyboot or EasyShoe for extra traction, which comes in handy in during these winter months. If your gift recipient has never used them before, the Quick Stud Application Tool would be helpful to receive along with the studs themselves.
Practical Gift Ideas
If the equestrian you're shopping for has a specific need or problem that you know of, a practical gift that would solve it is always appreciated.
If you know that this person likes to ice their horse's legs after a hard ride, or that they struggle to keep their horse standing in a bucket when treating an abscess, for example, then the Easyboot Remedy could make a great, practical gift. This boot only comes in two sizes, and is not designed to fit snugly, so it's much easier to guesstimate whether a horse needs a medium or large size. There should be plenty of room around the hoof when it's inside the boot, so going with a large is a safe bet for most average-sized horses.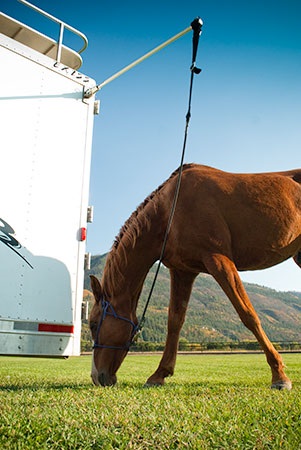 If the horse lover you're shopping for travels with their horse(s) often, and you're looking to give a special, generous gift, then a HiTie Trailer Tie System would make a wonderful gift. HiTies make life so much easier for anyone traveling with their horse, and they make the horse much more comfortable when standing at the trailer for long periods of time.
Personalized Gift Ideas
If you're looking for something custom-made, Etsy is a great place to start. Here are a few shops on Etsy that have some great gift ideas:
StitchingPostDesigns has some great options for personalized saddle pads.
BlueRidgeEngraving is a great spot to find personalized brushes, hoof picks, and grooming boxes.
HoofBeatDesigns makes some beautiful custom horsehair products. You mail in some of your horse's hair, and this company will turn it into a beautiful bracelet, necklace, or keychain.
Subscription Boxes for Horse Lovers

If you don't know what the horse lover in your life might need or want, a subscription box always makes a fun gift! It will be a more generalized gift and contain a variety of small gifts, tools, tack, treats, etc. Depending on the length of the subscription box you choose, the recipient of your gift could receive multiple holiday presents for months to come!
Cavali Club (delivered once a quarter) or Saddle Box (delivered once a month) both make offer great subscription boxes for adults. And if you'd like to gift a box to a young equestrian, Lala Horse and Pony Xpress Club look like great options.
Whether you decide to go with a stocking stuffer, a practical gift, something personalized, or something more general like a subscription box, the equestrian in your life will likely appreciate anything relating to their love of horses. We wish you luck with your holiday shopping!